The 5th China International Import Expo is getting closer and closer. At this Expo, the "SUMEC TOUCH WORLD" platform will join hands with more than 30 world-class electromechanical equipment brands and nearly 20 imported equipment to display in the technical equipment area, and will deliver more advanced equipment, process technology and the platform's full-process one-stop equipment procurement business solution to more partners and customers at the CIIE through various forms such as brands' live broadcasts and on-site display.
Which overseas equipment suppliers will appear in the booth of "SUMEC TOUCH WORLD"? Here's the exclusive "spoiler"!
Hitz Shipbuilding Co., Ltd. is a large-scale heavy industry enterprise focusing on environmental business. Currently, it has three business segments: environment, machinery and infrastructure and decarbonization, including design and manufacture of waste incineration power generation facilities, seawater desalination, pressure vessels, precision machinery, bridges, water gates, disaster prevention-related equipment, hydrogen production equipment, methanation equipment, wind power generation equipment, etc.
Core Products
Hydrogen production equipment
SOREMA is a company that designs, manufactures and installs plastic recycling equipment. As an industry leader, it provides a wide range of recycling solutions for packaging materials currently on the market, including PET bottle cleaning line, HDPE bottle cleaning line, film cleaning line, etc. The company has a number of patents, and has cooperated with many internationally renowned brands in the field of recycling.
Core Products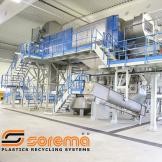 PET bottle cleaning line
German SLM Solutions is the inventor and industry leader of metal selective laser melting technology, and has been committed to promoting the global industrial application of metal 3D printing technology. SLM cooperates with customers at every stage of the process chain, provides customers with comprehensive technical support and knowledge sharing, improves customers' mastery of technology, and helps customers maximize their return on investment.
Core Products
Selective molten metal 3D printer
Of course,
We have many more suppliers exhibiting with us!
Enter the Equipment Exhibition Hall(www.mach-sales.cn)
to learn more about the international famous electromechanical brands.
We will announce more exhibitors in the future.
We count on your participation!
---
Post time: Sep-22-2022
---
Previous:
【Watch the Expo with Dada】Exhibition combined with trade, a one-stop equipment procurement!
---